From the dark ages to the glistening city life of the present, the course of human evolution has been accompanied by various ways of making use of, or sheltering from, the light of the sun. Sunlight, the ancient and eternal resources, has made climate livable and provides food for humanity, yet the sun also generates scorching heat and harmful UV rays.
Over one thousand years ago, the Inuit people began to make snow goggles from a piece of flattened wood or bone, with a narrow slit cut in the center to peer through. This was the first attempt in human history to block harmful light and protect eyes from snow blindness. It is far from what we would define as sunglasses today, but it shows that humanity has never ceased of researching, exploiting, and managing light.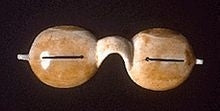 Inuit snow goggles (source: Wikipedia)
While the birth of sunglasses can be dated back to China in the 12th century or earlier, it was not untill 18th century when James Ayscough invented the tinted lens and experimented its implementation in eyeglasses, that sunglasses resembling those used widely today began to take shape.
For more than a century, sunglasses design has been constantly changing, but what remains the same is people's need for UV-shielding, eye protection, and vision improvement.
The sun is by far the strongest source of ultraviolet radiation especially UVA in the environment, no matter the weather condition or the season. Prolonged exposure to UVA can lead to low vision, eye damage, and diseases including photophobia (light sensitivity), keratitis, cataracts, and maculopathy. Importantly, these injuries are virtually irreversible in most cases. According to WHO World report on vision published in 2020, globally, at least 2.2 billion people have some sort of vision impairment. Eye damage and vision impairment are widespread, yet often untreated.
Traditional sunglasses protect eyes from harmful sunlight through lenses with lower visible light transmission (VLT) rate. However, light adaption varies from person to person, and traditional sunglasses are not able to provide different VLT rates that suit every individual. Sunglasses with an inappropriate VLT can lead to increasing eye fatigue and even cause more damage than not wearing sunglasses at all, as insufficient UV protection causes pupils to dilate in order to see clearly, which, in turn, allows more UV rays into eyes.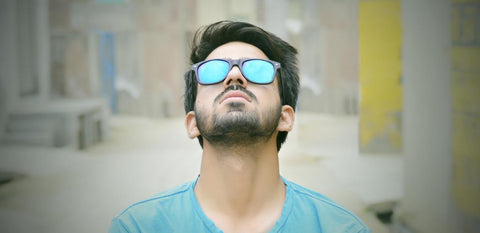 The American Optometric Association (AOA) as well as LASIK MD recommend patients to wear sunglasses for at least one week after LASIK procedures or other eye surgeries that can make your eyes temporarily sensitive to light in order to prevent dust and dazzling glare. It is especially necessary to wear sunglasses when patients go outside or look at TV screens or mobile devices.  
However, most people don't bother to buy multiple sunglasses with different VLT levels and carry them around all day to achieve the most comfortable brightness level for their eyes in different lighting conditions.  
Redefining dimmable eyewear, in under 0.1 seconds.
With deep insights into the needs of their users, Wicue developed the groundbreaking instant dimming sunglasses by applying the innovative, industry leading Wicue Crystal Clear Switching (CCS) liquid crystal film stepless dimming technology to modern eyewear. Powered by Wicue CCS technology, Wicue has created a unique experience of total light control for all weather and lighting conditions through the electronic shading lens technology.
Compared with legacy "photochromic" type auto-tinting sunglasses on the market, Wicue instant dimming sunglasses can immediately respond to the light change, and achieve ultra-fast switching in under 0.1 seconds to help users quickly adapt to the ambient light.  
The most distinctive feature of Wicue is that it offers both automatic and manual light control options to meet user's needs. By simply sliding the touch bar on the temple, users can actively adjust the brightness level they feel comfortable at any time of the day, in any weather condition. From dawn to dusk, from misty winter mornings to sunny summer afternoons, users are able enjoy optimal vision throughout the day without switching between multiple pairs of sunglasses. Wicue delivers truly efficient "visible light management".
The transmittance of Wicue lens is controlled by voltage changes, which means Wicue sunglasses are independent of UV sensing. For drivers, when entering and exiting garages or tunnels where the light changes instantaneously, it usually takes several seconds for legacy photochromic sunglasses to respond. These lenses sometimes cannot reliably tint properly, since car windshields block most UV rays needed to activate the shift. For these reasons, Wicue sunglasses provide a safer and more efficient visual experience owing to the 0.1 second ultra-fast, smooth electronic shading.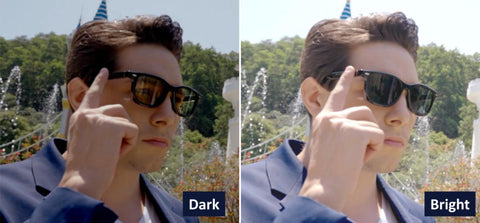 UV resistance up to 99.9% brings excellent heat insulation and shading, fully addressing the pain point of strong sunlight exposure in the summer. The embedded polarized TAC lenses can effectively filter glare and dazzling light, ensuring users enjoy crystal clear vision while driving or during outdoor activities like camping, hiking, and fishing.
For sports enthusiasts, Wicue has designed the Flash Collection sports sunglasses to dedicated to protecting their eyes while creating a more comfortable sporting experience. Durable, flexible and ultra-lightweight TR-90 frame is resistant to water, sweat, bending, scratching and drop. Wrap-around design and adjustable nose pad makes sure the sunglasses better fit every individual while running and cycling.

As technology advances, people expect not only fashion in an eyewear product, but also a healthier and smarter lifestyle. Wicue is dedicated to becoming not only the industry leader in dimmable eyewear, but the "light GURU"who understands users' needs and creates value for various scenarios. We aim to lead the next generation of eyewear by providing a high-tech dimming experience, letting users effectively manage, control, and enjoy optimal light, while adding a high sense of fashion.